I first saw her infectious smile in 2005. Randall Gill and I, who were working together on a book "Images of America: Boynton Beach," did not know her name. We did however recognize that the small, brown haired woman in the checkered shirt laughing as she posed holding up the sailfish epitomized the flavor of Boynton Beach in the 1950s. Our editors agreed, and out of several hundred photos considered, this ended up as the book's cover. It helped that rugged and tan Capt. Homer Adams, well-known in the Boynton community and from a pioneer family also graced the cover. The backdrop of the fish board framed by waving palms added to the joyful scene.
At our first book signing, appropriately held at the Boynton Beach City Library, where the book was "born," someone excitedly announced "That's Mrs. Pipes! She was married to Mayor Pipes." We had a last name, but not a first. In the 1950s, many women were still referred to as Mrs. So-and-so, and only their family and friends knew their first names. In 2005, few newspaper collections were available in digital format, so learning more about the pretty lady took time, and involved good old crowd-sourcing.
At another book event, someone remembered that Mrs. Pipes taught swimming lessons. Another person revealed that Mrs. Pipes had a large in-ground swimming pool and invited neighborhood children over to swim. One of the boat captains eyed the book cover and declared "Jean Pipes, she was a wonderful lady angler and won many fishing tournaments.
A display of photographs of past mayors hanging in the Boynton Beach Commission Chambers indicated that J. Willard Pipes was Boynton mayor in 1962. An Internet search revealed that Pipes, of Chicago, retired as vice-president of Pepsi-Cola and moved to Boynton about 1948.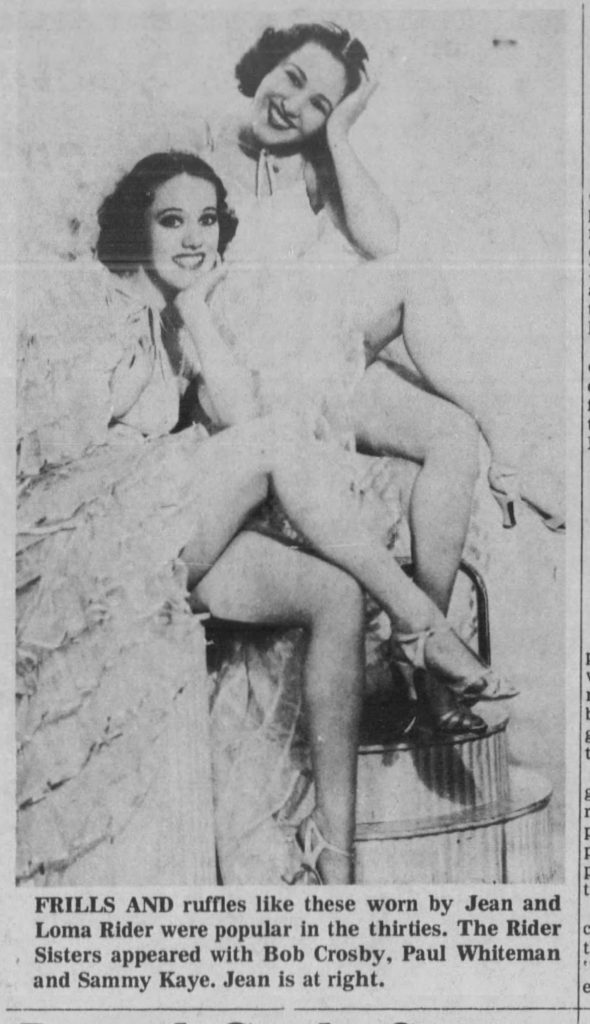 Mrs. Pipes, or Jean as we now knew her, previously led the the dazzling life of a vaudeville-like entertainer – dancing and singing with her sister Loma as a sister act. Jean and Loma performed as The Rider Sisters and tap-danced and sang their way around Illinois, Wisconsin, Michigan, Indiana and Ohio. The duo had gigs in theaters, night clubs and county fairs. They were famous.
Once in Boynton Beach, Jean didn't totally hang up her dancing shoes, but she channeled some of her energy and vivaciousness into transforming the sleepy bedroom community. She quickly got to work championing for a hospital (Bethesda) and organizing the Royal Palm Republican Club Federated. She helped found the Boynton Lantana Business and Professional Women's Club and served on the board for the Palm Beach County Libraries and numerous other affiliations.
She enjoyed the outdoors, and the thrill of landing "the big one." She opened her swimming pool to the neighborhood children. She positioned her husband Willard to become mayor of Boynton. It's somewhat surprising that she didn't run for mayor herself.
Rider Road and Willard Way east of Federal are named after Jean Rider and Willard Pipes. Jean Rider Pipes lived in Boynton until her 1999 death, and newspapers from the previous fifty years in Boynton are peppered with her contagious smile. News clips from the 1930s portray the "double pleasure" entertainment of the Rider Sisters. Jean's obituary claimed that her motto was "Invest in People." She lived her life well, and left an indelible mark and a little bit of her sparkle upon Boynton Beach.