On October 26, 2018, a hungry would be shopper stopped by Jim Torchio's Finer Meats and Delicatessen and found a hand-written note scrawled on what looked like white butcher paper: "Torchio's is no longer open for business. Thank you for shopping here over the years. It is time for us to move on. Sorry for any inconvenience this may cause anyone. Sincerely, The Torchio Family."

The news spread like wildfire though social media channels. Some people were outraged at the lack of notice, others were concerned about the family. Customers and friends left well wishes. Facebook posters reminisced about the food and the friendly family service. They wrote mouth watering tributes to their favorite delicacies: pastrami and mozzarella sub sandwiches, Taylor ham rolls, antipasto party platters, stuffed pork chops, filets, and other choice meats. Even vegetarians professed their love for the small store located in a strip mall on Woolbright Road just around the corner from Palm Beach Leisureville.

I remember the store well, its spicy aroma and busy atmosphere. Cases of meat – prime rib, hamburger, veal cutlet, and sausage—fresh ground homemade Italian sausage. Dry goods and vegetables displayed on shelves, in baskets and refrigerated cases, some homemade pies, and a full service deli counter. My mom used to refer it to it as "the stinky store," a term of endearment that goes back to the Italian butcher and delicatessen we used to visit in Chicago.

This made me wonder who the Torchio family was, where they came from, and how they ended up with a successful 40-year business in little old Boynton Beach? It's not exactly the meat packing capital of the world—although there was a time, back in the late 1920s, and early 1930s when livestock, namely cows, outnumbered people. Alas, the cows in Boynton were dairy cows, not Brahman bulls. Boynton's plentiful dairy farms – Melear, Knuth, Goolsby, Keatts, Weaver, Bell, White, Benson, Muggleton, Rousseau, Fideli, etc., supplied milk and cream to Southern Dairies. Dairy cows blanketed the Boynton landscape until the early 1980s.
It turns out that Jim Torchio, a New Jersey born son of Italian immigrants, only owned the Boynton butcher shop and deli for about two years, if that. Torchio, his father Guiseppi, and younger brother Frank were all Jersey City butchers. Jersey City had large stockyards to supply New York City with fresh meat. James Torchio owned and operated an independent butcher shop in Jersey City by 1940 and had a son and a daughter with his wife, the former Angelina Loori. Tragedy struck in 1963 when their 22-year-old son Joseph died suddenly. A few years after Angelina's 1969 death, Torchio gave up his New Jersey butcher shop and headed south to Palm Beach County with his second wife, Mary Jane Swayze.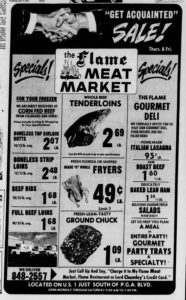 Torchio, a successful businessman as well as meat carver, served as head butcher/manager at The Flame Meat Market and delicatessen in North Palm Beach. The butcher shop supplied fine meat cuts to The Flame Restaurant. He incorporated Jim Torchio's Farmer's Meats operating his business at the West Palm Beach Farmer's Market on Congress Avenue in the mid-1970s.

In 1978, Torchio opened a friendly, neighborhood Italian butcher shop and delicatessen in Leisureville Center.
The land the strip mall sits on was part of a failed 1920 boom time development, and before that it was a fresh water lake. The colorful real estate developer K.D. Purdy planned a large, opulent neighborhood around the partially filled in lake.
The hurricanes of 1926 and 1928 slowed progress, as contractors couldn't get building supplies to meet the boom time demand. The real estate bubble burst…and the land sat mostly undeveloped for years, until Caldros properties developed it in 1968 into a 2,000 home adult community and golf course.
In June 1981, Worley E. Walker, a retiree from Tennessee, applied to operate under the fictitious name "Jim Torchio's Finer Meats, Inc." Walker, along with sons Steven, Richard, Terry, and their families, were the friendly faces who operated Torchio's delicatessen. Jim Torchio, the Italian Jersey City butcher who lent his name to the deli, continued to live and work in Palm Beach and on the Treasure Coast. He was the butcher at Pinder's Seafood in Jupiter until 1993. Torchio passed away in 1996, but his name will always conjure up mouth-watering memories for generations of Boyntonites. Torchio's, the landmark, and the Walker family kept Boynton residents and visitors well fed.
While the cows of Boynton have all vanished, so has the family butcher shop. Each generation covers over the previous one with another layer of history. Patronize your local merchants, especially the family operated ones. Some day they won't be there. You'll be lucky if there is a kind note left on the door.