OH, THAT HOLIDAY MAGIC!
My favorite childhood memories include the enchanting department store Christmas displays in downtown Chicago. The Marshall Field's vignettes featured vibrant animated scenes. That special treat and its holiday magic is firmly etched in my mind. New York, too, does not skimp on the holiday sparkle. The festive annual Macy's Thanksgiving Day parade kicks off the season, and Rockefeller Center erects its signature tree, said to average 75-90 feet in height.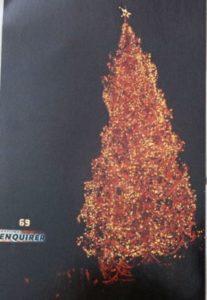 Families residing in South Florida during the 1970s and 1980s witnessed its own annual Christmas miracle when publishing mogul Generoso Paul Pope, Jr. brought holiday tradition and magic to Lantana. Pope, known to his friends and family as Gene, began the tradition in 1972 when he ordered a freshly cut 55-foot balsam fir for his newly relocated National Enquirer offices situated along the Florida East Coast Railway tracks at 600 S. East Coast Avenue. Today the National Enquirer site is the Maritime Academy charter school campus.
At the inaugural tree lighting on December 11th, children of all ages tilted their heads back to view the majestic glittering tree and "oohed and aahed" when Senator Edward Gurney pressed the button illuminating over 7,000 twinkling lights. More than 400 red and green ornaments, 100 red bows and 50 three-foot-tall candy canes decked the tree. The New Directions choir from Riverside Baptist Church in Miami serenaded the enraptured crowd with Christmas songs and hymns. Amid the balmy 80-degree weather that Monday evening, South Floridians indulged in a few hours of authentic holiday magic. For weeks afterward, passersby along Federal Highway (known then as U.S. 1, the main route through Palm Beach County), gawked at the tree and pulled over to take photographs.
Most National Enquirer Christmastime attendees knew little about Pope's six-month struggle to locate and retrieve the big tree. Since trees that size don't grow in the United States, the tree came from Canada. He had it specially crated and shipped by rail to the coast, then transferred onto a freighter and delivered to the Port of Miami to begin its trek north to Lantana. Pope, his wife Lois and their six children could see the six-foot lighted star atop the Enquirer tree from their home in nearby Manalapan.
People enjoyed the tree so much Pope continued the tradition, and both the tree and the holiday cheer grew in size and scope with each year. Once word got out about the magnificent Christmas tree and enchanting displays, lines to enter the grounds wrapped around the block, sightseers in tour busses came from places like Miami, Orlando and Tampa, and pilots from Lantana Airport advertised sightseeing flights over the attraction. The town brought in extra police, and lucrative entrepreneurs hawked soft drinks and souvenirs.
Perhaps even more mesmerizing than the tree were the impressive animated displays and the seemingly endless trains weaving through an irresistible land of toys. Pope brought in Burl Ives to croon "White Christmas" and delight children with songs like "Rudolph the Red Nosed Reindeer." Eventually, the tree topped 126 feet and has been dubbed "the world's largest Christmas tree," although it doesn't officially appear on record. A biker group labored to unload, install and decorate the tree, which arrived most years vial rail in boxcars and had to be reassembled. Once Interstate 95 came through, motorists could view the tree from the highway. The tree was visible to the sport fishing boats that frequented the Atlantic Ocean just outside the Boynton Inlet.
At times neighbors and local businesses deemed National Enquirer tree and its crowds a nuisance. Although Pope offered free parking, traffic snarled Federal Highway and cut off entry to neighborhoods, shops and restaurants. One year someone called in a bomb threat. Actor Burt Reynolds, who owned a horse ranch in nearby Jupiter, and fed up with the tabloid for exposing his private life, reportedly rented a pilot and a helicopter and dumped a sizable load of horse manure on the tree. Despite the stink from the manure and some neighbors, Pope and his Christmas extravaganza continued to deliver holiday cheer.


A heart attack claimed the 61-year-old Pope in October 1988. Months later, his widow Lois hosted the Christmas tradition in his absence, but that would be the last year crowds pilgrimaged to the little town of Lantana to see its noteworthy tree.
A year later, Gene Pope's estate sold the the National Enquirer for $412 million to MacFadden Publishing and Boston Ventures. The tree's decorations, which included three-quarters of a mile of garland, 250 red bows, 1,200 multicolored balls and 150 candy-cane and snowflake ornaments, along with its six-foot lighted star adorned a Christmas tree in Bayfront Park in Miami.
Generoso Pope is buried in Our Lady Queen of Peace Cemetery in Royal Palm Beach. His epitaph describes his legacy as the man who made millions and millions of people happy.  No doubt any kid who grew up viewing Pope's National Enquirer tree can still recall the festive displays and fondly recall and describe that old-fashioned "Christmas magic."
Bill Newcott posted an eight minute video of the 1985 display on YouTube.
Paul David Pope reposted an interesting story about the last Christmas tree.
This 1987 Sun Sentinel article provides more insight into the operations choreography for the tree.
Pope's widow, Lois Pope, continues to live in Manalapan.
Eliot Kleinberg's Post Time column about the Lantana Christmas tree tradition.
Stay tuned for an upcoming blog about Generoso Paul Pope, Jr. (there was too much interesting information to fit into this blog about Christmas).