For nearly 20 years, I lived almost directly across the street from Boynton Memorial Park and Mausoleum, commonly called the Boynton Cemetery. The cemetery is the resting place for a number of my family members. I visit there fairly often, and find myself drawn to the old section.
Due to my ties to the community, the Boynton Beach Historical Society, and my propensity for historical research, many of the old family names greet me like old friends.
At some point, I found myself especially drawn to a rather lovely marker engraved with the name Albert J. Bowen. The dates on the monument indicate Bowen was born in 1865 and died in 1903. It dawned on me that his may be the earliest recorded death in this cemetery. Sure enough, according to Palm Beach County genealogist Marjorie Watts Nelson, Albert Bowen's 1903 tombstone is the earliest legible marker in the cemetery.
When I realized this Boynton pioneer had lived less than 38 full years, I couldn't help but wonder who this man had been and why his life had been cut short. What I found shocked and rocked me to the core! Poor Mr. Bowen suffered from a poisoning, a lethal poisoning!
Born in Ontario, Canada, in 1865 to Thomas Bowen and Tabitha Filmore Bowen, Albert J. was the fourth of six children, all boys. In 1878, the family immigrated to northern Michigan, where Albert J. Bowen and several of his brothers worked on the river as log drivers.
When he was 26 years old, Albert married Flora B. Ackley, then age 16, in Sheridan, Michigan. Flora was the daughter of George W. Ackley and Lucy Hall.
The family moved to Florida sometime in late 1900 or early 1901. How they ended up in Boynton remains a mystery. It is possible they heard about the farming opportunities in the Boynton area through Major Boynton's Michigan Home Colonization project or they heard about the area from friends or relatives. As did many young families in Boynton at the time, the Bowen's and their little daughters, Rosa (born around 1893) and Ruth (born about 1897) boarded at a rooming house. In this case, Flora Bowen helped with the housekeeping at the Freedlund House, operated by Joseph Freedlund. Albert worked as a truck farmer, planting fruits and vegetables for export to northern markets via Henry Flagler's Florida East Coast Railway. I can only imagine how hard both worked in the tropical frontier without the comforts afforded by our generations. Still, perhaps to them this was paradise, a land of romance…
Their idyllic Florida dream came to a choking halt when Albert, only 37, met an untimely death from ingesting poison. The August 22, 1903 issue of Guy Metcalf's newspaper, the Tropical Sun, bore the headline "Took Strychnine and Died in Agony: Tragic End of A.J. Bowen, of Boynton."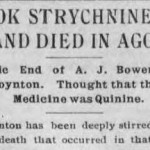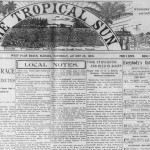 According to the news article, Albert Bowen had worked hard all day in the fields, planting pineapple slips and came home tired and achy. He took some medicine and what he thought was quinine. Shortly after supper, he retired to his bedroom. Another boarder heard a disturbance and upon investigation found Bowen writhing in agony, screaming and convulsing. Joseph Freedlund went to West Palm Beach on the first train out and summoned Dr. Merrill, who rode back in a carriage driven by Richard Gardner, only to find Bowen's soul had long left his body. His heart-broken wife and neighbors said Bowen made a mistake and took strychnine instead of quinine.
After the tragedy, Flora and the children, who were only nine and sixteen years old, must have left town. Losing Albert and staying in Boynton likely was too much to bear. The 1910 census shows Flora, Rosa and Ruth living with relatives in Pennsylvania. In 1917, 40 year-old Flora (occupation listed as dressmaker) married Ivan E. Smith, four years her junior, in Flint, Michigan. By then Flora and Alberts' daughters would be grown women, probably with families of their own.
Albert Bowen's headstone is engraved with the following words: "To Live in Hearts We Leave Behind is Not to Die." At first I wondered why I was drawn to this marker and was compelled to research Albert Bowen 110 years after his death. I needed to tell his story, to make sure he is not forgotten.
-Rest in Peace A.J. Bowen-